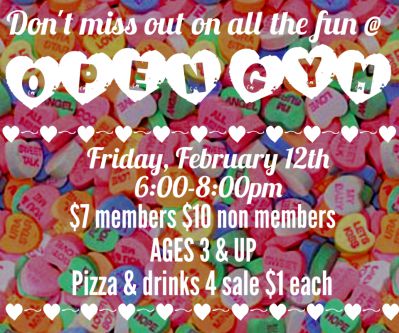 COME JOIN EMPIRE ELITE FOR OPEN GYM THIS FRIDAY FROM 6:00-8:00PM!
WE LOOK FORWARD TO SEEING YOU ALL THERE!!
Please click on this link below for our open gym waiver & release liability form: http://n1media1.files1.jamspiritsites.com/60831/87110858156621fb8b22fc.pdf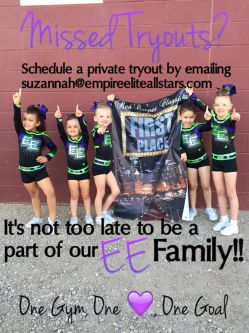 No Experience Necessary
Age 3-18
*Updated tryout packet with all details can be found under the FORMS section or clink on the link below:
http://n1media1.files1.jamspiritsites.com/60831/26728564255418731016b8.pdf
EMPIRE IS PROUD TO ANNOUNCE OUR BRAND NEW FACILITY!! !
2 SPRING FLOORS

50FT TUMBLE TRACK

RESI PIT

ALL NEW EQUIPMENT

LARGE PARENT VIEWING AREA

AND MUCH MORE!!
LOCATED IN A BRAND NEW RETAIL CENTER AT THE CORNER OF RIGGS AND ARIZONA AVE.
25410 S. Arizona Ave. Chandler, AZ 85248

FOR THE 3RD TIME, EMPIRE ELITE WAS CROWNED NATIONAL CHAMPIONS AT THE 2014 US FINALS IN LOS ANGELES!!
Congratualtions to Dream and Fierce for your 1st placing rankings and to Glamour for bringing home 2nd!! We couldn't be more proud of you girls!
For the second year in a row one of our teams has placed first in the US FINALS NATIONAL RANKINGS!! Congratulations to our Youth team for ranking 1st and our Senior team for ranking 4th in the Nation for 2011!!
We are beyond proud of you Ladies!
Congratulations to our Mini Level 1 team!! They took first place out of 83 teams and were named the 2010 US Finals National Champions!!!
We are so proud of you girls!
Check out the link below and click on Mini Level 1: